Rhubarb Ginger with Muesli Crumble
"Top Sealed Potted Dessert"
As served on British Airways LAX to LHR March 2011
Manufacturer: Brinkers Patisserie, Netherlands. www.brinkers.nl
It's hardly fair to take pot­shots at airline meals, but I can't resist telling you about this dessert served to us on a recent British Airways trans­atlantic flight.
It came in a container like a yoghurt pot. Curious to know the ingredients, the peel-off top referred me to the underside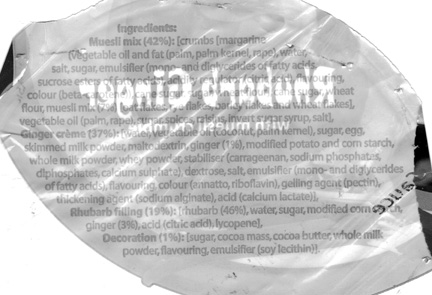 No, I couldn't read it either. I had to wait until l got home to read the label under a strong magnifying glass.
Ingredients [Transcript]
Muesli Mix
(42%): [Crumbs [margarine (vegetable oil and fat (palm, palm kernel, rape), water, salt, sugar, emulsifier (mono- and di- glycerides of fatty acids,

sucrose esters of fatty acids) acidity regulator (citric acid), flavoring, colour (beta-carotene), cane sugar, sugar, wheat flour, cane sugar, wheat flour, muesli mix, (7%) [oat flakes, rye flakes, barley flakes and wheat flakes], vegetable oil (palm, rape), sugar, spices, raisins, invert sugar syrup, salt],
Ginger Crème (37%): [Water, vegetable oil (coconut, palm kernel), sugar, egg, skimmed milk powder, maltodextrin, ginger (1%), modified potato and corn starch, whole milk powder, whey powder, stabilizer (carrageenan, sodium phosphates, diphosphates, calcium sulphate), dextrose, salt, emulsifier, (mono- and di- glycerides of fatty acids), flavouring, colour (annatto, riboflavin), gelling agent (pectin), thickening agent (sodium alginate), acid (calcium lactate)],
Rhubarb Filling (19%): [rhubarb (46%), water, sugar, modified corn starch, ginger (3%), acid (citric acid), lycopene],
Decoration (1%): [sugar, cocoa mass, cocoa butter, whole milk powder, flavouring, emulsifier (soy lecithin)].
So, 92% of this British Airways dessert is a multitude of chemicals not found outside a laboratory, plus starches and sugars in various disguises. AVOID!