The most recent Bond Briefings are available by private subscription
---
USEFUL LINKS
Geoff's latest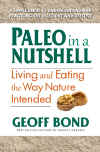 Nutritional Anthropology's Bible:
by
Geoff Bond
---

Lung Function Test:

October 3, 2017
Incorporate short sprints into your daily physical activity pattern...

See video clip: http://bit.ly/2xJBwEN
Getting back on message regimen. Food Diaries (pdf)

November 12, 2014. Results of recent check-up measured by Dr Stelios Michaelides, Panthea Clinic, Limassol, Cyprus

Blood pressure: 119/79

Resting heart rate: 42 bpm

Blood oxygen saturation: 100%

No medications of course, these figures are in hunter-gatherer territory…

Frédéric Bouvet, (YOB 1965) of Annecy, France has been, with his family (see March 2007) a Bond practitioner for some 15 years.

He recently had a blood test after a period of what he terms 'work burnout'.

Fred was delighted to find that his results are all perfectly aligned in the 'normal' range. Click here
Geoff's ESTeck Health Appraisal
Non-invasive Digital Body Scan by Get Life Health Scan. Hooked up to electrodes around the body, the computer analyses the signals of electrical resistance. The vital signs are uniformly good - too good in one case - my vascular age came out as that of a 25 year-old! The machine operator thought that there is something wrong with the computer program. I prefer to think that it is thanks to practising what I preach!
Geoff's Bio-clip Vascular Ageing Appraisal
Using a finger clip which measures: heart rate, Stiffness Index (a measure of large artery stiffness), Reflection Index (a measure of small artery vascular tone), blood oxygenation levels. By International Antiageing-systems. This simple procedure also produced a remarkably young vascular age.
Then (age 17)

Recent

It is vital to be skinny throughout youth. In that era it happened without trying...
Preparing a badminton smash, Atromitos Club, Paphos, Cyprus

Chin-ups by the sea

Running up a mountain path in Rancho Mirage, CA
Click for Video

'Barefoot' running in Toledo Avenue, Palm Springs.