---
The most recent Newsletters are available by private subscription
---
USEFUL LINKS

Nutritional Anthropology's Bible:
by
Geoff Bond
---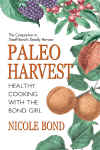 Paleo Harvest Information Page
---
Sunshine is vital Food: Sunbathers Outlive Sun-avoiders. Ancestral Lifestyle: Eat First, Share Later. Health Policy: "When Death becomes Optional". Q&A: Forager Tooth Cleaning. Headline Hooks: "Why it's healthier to cook with lard than sunflower oil". News Flashes: Low Vitamin-D in Pregnancy increases Risk of MS in Child; Gut Worms Boost Immune System; Fat Pregnants have Vitamin D Deficient Babies. Spreading the Word: Radio Interview with Dr Rita Stec, part III.
Beware Barmy Headlines: Do YOU have the Fat Gene? Human Behavior: Personality is in the Genes. Human Migration: Out of Africa – Twice. Unintended Consequences: Why Statins are 'Muscle Toxic'. Q&A: Frozen Berries & Hepatitis-A; Macular Degeneration; Quinoa or Chia for Diabetics? Hints: Tips from the Mindlessly Slim. News Flashes: Paleo Diet Fights Metabolic Syndrome; Genetically Wired for Obesity? Vitamin B12, Brain Health Link. Viewpoint: Is Obesity Optional? Correction: 'Filches good name' quote. Spreading the word: Oxford Uni Talk on Ageing Well; Radio Interview with Dr Rita Stec.
Jungle Lore: IHOP Garden Omelette. Beware Barmy Headlines! "Paleo Diet is Dangerous…" Bamboozle Watch: Beware of Cancer Drug Hype. News Flash: Potato-Gestational Diabetes Link; Buyer Beware – GMO Salmon. Q&A: Pseudo Grains pros and cons; Distilled Water; Krill Oil. Hints: Have a shorter Mealtimes Window; Sleep Quality Linked to Diet. News Flashes: Omega Imbalances in Pregnancy Affect Child's Brain; More Children, Slower Ageing; Low Sunlight, Leukemia Risk; Neighborhood Quality, Cell Ageing Link; Green View Boosts Student Results. Standing Desks Boost Student Cognition. Human Behavior: Male/Female Wayfinding Differences. Spreading the Word: Inaugural Paleo Society Seminar; Radio Interview with Dr Rita Stec.
Resources: Bond-precept Crib Sheet. Food Politics: USDA Dietary Guidelines 2105. Briefing: Protein in Focus. Recipe: Alexander's Asian Breakfast. Questions: Sprouting Grains & Pulses. News Flashes: Gut Bugs – West vs Foragers; Antibiotics fatten kids; Statins Impair Memory; Barefoot as Nature Intended. Hints: Kitchen Cues Fatten. Human Behavior: Women Wired for Stranger Danger. Spreading the Word: Radio Interview KPSI.